Query complex data in real time through chat
Try Aristotle's powerful NLP to SQL engine and experience a new way to access data. Look up values and run analytical queries. As simply as chatting with a friend.
Works for simple lookups and complex analysis
Supports search and filtering across millions of values
Manages granular users access rights to data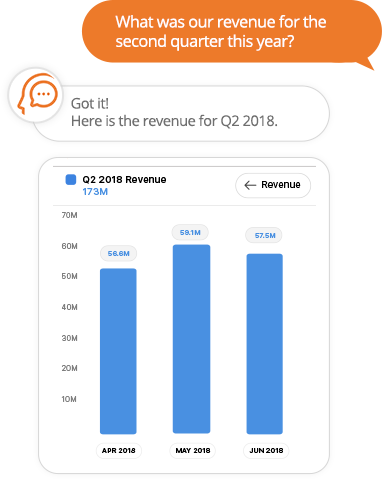 ---
Use cases
Deskless workers & field services
Save time accessing inventory information when working remotely, using any mobile device.
Executives & supervisors

Monitor activity while on the move and query data on your own to get immediate answers.

Partners & customers

Enhance your self-service portal by answering more data questions through an automated chatbot.

Customer service bots
Make your customer service chatbot smarter by answering complex data questions.
---
Integrations
Ready-made Aristotle app published on the Slack app store.
A simple API to add advanced data query intent to your chatbot.
Dedicated formatting of conversations for most common channels: Web, Slack, MS Teams, Skype and FB Messenger.
Connect to 100+ data sources and databases.
---
New! "Talk data to me"

Access your data directly through Siri for a truly seamless experience
---
Want to know more?
Contact us, we will answer you shortly.